R-N13A - Ovarian adenocarcinoma - ovary, oviduct - chicken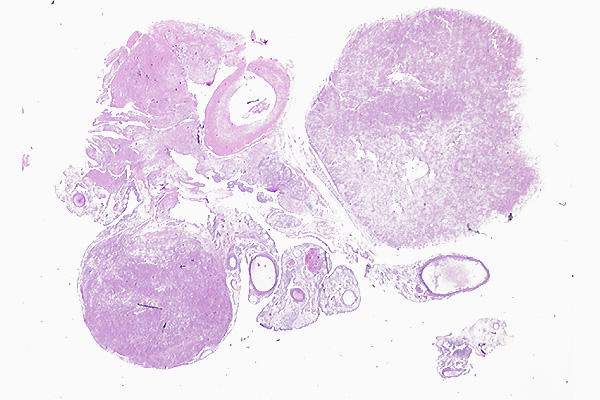 Signalment: &nbsp2 year old female sex-link chicken

History: &nbspDied after a two day history of listlessness. She had a history of laying rubber eggs with tissue/blood.

Histopathologic Description:
Ovary: Ovarian tissue is multifocally effaced by an unencapsulated, densely cellular, infiltrative neoplasm composed of nest of polygonal cells forming irregular tubules and acini on a moderate fibrovascular stroma. Neoplastic cells have indistinct cell boarders, moderate amount of eosinophilic cytoplasm that often contains multiple 2-5 um round, eosinophilic cytoplasmic granules. (visible in less aulolytic areas) Nuclei are irregularly round with finely stippled chromatin and indistinct nucleoli. Anisocytosis and anisokaryosis are moderate and mitosis is less than 1 per 40 X HPF. Multifocally within the neoplasm are large areas of amorphous, eosinophilic material (secretory product)

To view the Virtual Slide, click the image: &nbsp


Morphologic Diagnosis: &nbsp Ovary: Adenoarcinoma.

General Discussion:

Most common ovarian neoplasm of the chicken
Only affects the left ovary, (left is functional, right persists as a small vestige)
The ovary is the most common site; magnum of the oviduct is second most common and very malignant.
Oviduct contains five regions: Infundibulum (fertilization); magnum (deposition of albumen); isthmus (deposition of membranes); uterus (shell); and vagina (transport to the cloaca)
Incidence increases with age and is up to 80% by 2 years of age in some breeds
Incidence higher in breeds with high body weight and egg weight
Metastasis, dissemination and vascular spread occur in 50% of cases.
In turkeys long photoperiods stimulated tumor growth and short photoperiods caused regression to the point of remission. Tumor growth was attenuated by melatonin making this a good model for human spontaneous adenocarcinoma.

Pathogenesis:

Unknown
Cell of origin thought to be overlying mesothelium or from thecal glands, interstitial cells, mesonephros or sex cord remnants.
These tumors are estrogen responsive

Typical Clinical Findings:

Abdominal distension (ascites)
Dyspnea, depression

Typical Gross Findings:

Ranges from small, fleshy, round enlargements of follicles to enlarged, firm, gray-white cauliflower-like ovarian masses
Multifocal implants on serosal surfaces of pancreas, mesentery, and intestines.

Typical Light Microscopic Findings:
Ovarian adenocarcinoma
Patterns include solid (most common), acinar, and papillary
Infrequent mitotic figures
Intracytoplasmic intensely eosinophilic and homogeneous material (PAS-positive and mucicarmine-negative). Mucicarmine: Very specific for epithelial mucins, including adenocarcinomas; although insensitive; stain contains carmine (red coloring material) and aluminum
Foci of necrosis and hemorrhage
Maturing follicles are usually absent in advanced cases
Presumed to arise from the mesothelium of the ovary
Oviduct adenocarcinoma
Pattern and cell morphology vary
Most often acinar and tubular patterns
Adenocarcinoma cells may penetrate through the muscularis and spread through the abdominal cavity. The muscular is mucosa under these implants becomes hyper plastic.
Intracytoplasmic intensely eosinophilic and homogeneous material as above.

Additional Diagnostic Tests:

Immunohistochemistry: Cytokeratin AE1/AE3, pancytokeratin, EGFR, Lewis Y, CEA, Tag 72, and erbB-2 are all reportedly positive with immunohistochemistry.
Adenocarcinoma of oviduct origin are positive to ovalbumin, progesterone and estrogen receptors.

Differential Diagnosis:
Gross ovarian neoplasm:
Oviductal vs. ovarian adenocarcinoma: Failure to detect tumor growth on mucosal surface of oviduct strongly suggests that the primary tumor is ovarian.
Adenocarcinoma of unknown origin
Lymphoma
Granulosa cell tumor: Can be very large; generally attached to the ovary by a thin stalk, yellow, lobulated, round, and encapsulated by a smooth, glistening membrane, friable; often hemorrhage and necrosis
Arrhenoblastoma: Seminiferous tubules proliferating within ovarian stroma; associated with sex reversal in hens; variable degrees of spermatogenesis
Leiomyoma of the mesosalpinx: Ovarian, oviduct and uterine tumors; grow on the peritoneal surface of the oviduct or in the mesentery; single, firm, encapsulated, round masses; occur in flocks on 17 beta-estradiol
Mesotheliomas: Lack glandular structures

Comparative Pathology:

Chickens serve as a model of spontaneous adenocarcinoma in humans.
Turkeys are occasionally diagnosed with ovarian and oviduct adenocarcinoma.
Canine: Ovarian adenoma/adenocarcinoma is rare.

References:

1. Kennedy PC, Cullen JM, Edwards JF, Goldschmidt MH, Larsen S, Munson L, Nielsen S. Histological classification of the tumors of the genital system of domestic animals. In: Schulman FY, eds. World Health Organization, Histological Classification of Tumors of Domestic Animals. Vol. 4. 2nd ed. Washington, DC: The Armed Forces Institute of Pathology, 1998: 24-28.

2. Reece RL. Other tumors of unknown etiology. In: Calnek BW, Barnes HJ, Beard CW, McDougald LR, Saif YM, eds. Diseases of Poultry. 11th ed. Ames, IA: Iowa State University Press; 2003: 542-547